Review: Ultimate Cheese Challenge
June 14, 2012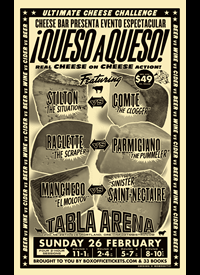 Back on February 26, 2012, my husband Burtle and I attended the Ultimate Cheese Challenge. It was arranged by The Cheese Bar, pairing six cheeses per beverage. There were two wines, two beers, and two ciders, so there were 36 cheeses and a potential of consuming half a pound of cheese. It was held at the Tabla Mediterranean Bistro, who also had some bread and meats to munch on.
First off, I have to say that I don't like goat's milk at all. A few weeks before this event, Burtle brought home a chocolate raspberry cheesecake. I took a bite, started eating, and spit it out. "That's goat's cheese!" He had always heard me say I could tell the difference, and while he believed me, there was still a little kernel of doubt. Anyway, I did try yet another goat cheese with some cider, but again, I had problems, and therefore avoided it for the remainder of the tasting, which means I consumed about seven fewer cheeses. For the most part, I was okay with sheep's milk cheeses, though there was one or two that threatened to give me issues. Out of the three blue cheeses, I only had one, and I made sure to pick out with the least amount of blue. There was one water buffalo cheese, a Quadrello di Bufala from Italy that I tried. It was a creamy cheese.
We were each given a wine glass, a plate that could hold the wine glass and our cheese, a list of all the foods, and a cheese tasting book . Even though our plates could hold our glass, I found I really didn't have much room for both the cheeses and the notebook, so I ended up just writing really really tiny on the list and not at all in the notebook, so not many notes were written.
We started out with Wandering Aengus Dry Oak Cider, and then switched to the much sweeter yet low acid Bushwhacker Cider. While I liked the Wandering Aengus cider better, the Bushwacker gave me my first wow pairing of an extra sharp Hook's five year old cheddar from Wisconsin. I should mention that Burtle doesn't like cheddar above a medium. He likes his cheese creamy, and I go more for aged and nutty.
For the beers, we had Commons Brewery Urban Farmhouse, which is like a sasion. The best cheese with that one was the Brebis de Esplette, a raw sheep's milk cheese from France with red pepper in it. The other beer was very hoppy, so it kind of overpowered the cheese. However, Burtle started complaining about this point that he had cheese fatigue from tasting so much cheese.
The first wine we had was a Teutonic Pinot Gris, which was actually medium sweet. I commented on this, and the winemaker said he was trying to make wine more like the Germans. Burtle commented that despite it being sweet, it was still high in acid, so it had a very nice balance. He said that the winning pairing of the whole evening was that wine and the blue cheese from France. The other wine was a Matello Syrah/Viognier, a soft red wine.
Overall, it was nice, but too big. I had also sort of expected it to be more of a sit down event with an MC to kind of guide us through the tastings. I wish I could have used the cheese tasting book to take notes, as my notes pretty much just said creamy, nutty, dry, eh. What I really need is a cheese tasting class, with no more than twelve cheeses and three beverages to go through.
The final voting results as released by The Cheese Bar.